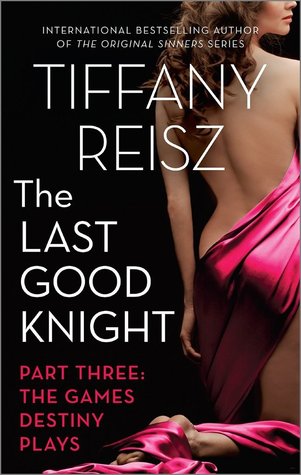 The Games Destiny Plays (The Last Good Knight, #3) by
Tiffany Reisz
My rating: 5 of 5 stars
Book Description:
The Last Good Knight: An Original Sinners novella told in five parts.
Part III: The Games Destiny Plays
Shocked to see Nora's bruises, Lance is furious that she put herself in danger and demands to know where she got them. As Nora confesses her true nature, she's equally shocked to learn that Lance has some secrets of his own, drawing them together despite Kingsley's orders….
★★★★★ 5 Stars! ★★★★★

Once again, Tiffany Reisz blew me away with this third novella in The Last Good Knight Series. ...And just because Nora's been sexually involved with Lance, doesn't mean that her one and only love Soren isn't still in the picture. *sigh*

My thoughts exactly.

In this particular novella, we get some majorly hot action with our favorite sadist priest... Be still my heart. There's just such a forbidden element when it comes to Soren and Nora's relationship that I've always loved and the fact that he plays a key role in these novella's as well, is what kept this series going stronger and stronger.

As I've said this before, Tiffany Reisz has ruined me for everything else erotica related- No one out there manages to capture the essence of BDSM like her, and these novels is the perfect example.