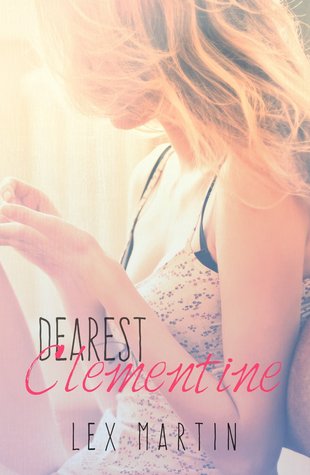 Dearest Clementine by Lex Martin
My rating: 5 of 5 stars
Book Description:
Twenty-year-old Clementine Avery doesn't mind being called bitchy and closed off. It's safe, and after being burned by her high school sweetheart and stalked by a professor her freshman year of college, safe sounds pretty damn good.

Her number one rule for survival? No dating. That is until she accidentally signs up for a romance writing class and needs material for her latest assignment. Sexy RA Gavin Murphy is more than happy to play the part of book boyfriend to help Clem find some inspiration, even if that means making out...in the name of research, of course.

As Gavin and Clem grow closer, they get entangled in the mystery surrounding a missing Boston University student, and Clem unwittingly becomes a possible target. Gavin tries to show Clem she can handle falling in love again, but she knows she has to be careful because her heart's at stake…and maybe even her life.

DEAREST CLEMENTINE is a stand-alone novel with two companion novels. This New Adult romance is recommended for readers 18+ due to mature content.
Oh my Darling, Oh my Darling,
Oh my Darling Clementine.
You [were] lost and gone forever,
[Oh my Darling], Clementine.
I can't count the number of times that song went through my head as I read.
I serious loved this book. If I had to classify this, I'd call it a New Adult Romantic Suspense. And since I love New Adult, and I love Romantic Suspense, this was right up my alley!
I really liked Clem. She was smart (except for math), snarky with a dark sense of humor, and into book, GR and writing. (I must admit, while I know GR isn't' for everyone, I love it and loved the shout out. ;) ). I also loved Clem's friends....Jenna, Harper, and Dani. And I can't forget Ryan, Kade, Gavin, Jax (♥) and Daren.
She had such a great group of friends that I hated for the book to end because I wanted to see what happened next.
Jax...I totally loved him. I think he deserves a book. I want to see his story and see him get a HEA.
Daren...when he first came around I groaned because I was fine with him just being someone from the past that you never saw. but the author did a good job of not making me totally hate him. I'm not sure I'd want a book for him though...just because I hold grudges.
Gavin. Dear lord Gavin. I want a book boyfriend like him. I honestly don't have the words to describe how much I loved him.
The romantic suspense was very well written. I did figure it out and was happy I got it right. I was also happy to see that there was a good outcome.
This is definitely a book I would recommend.
View all my reviews on Goodreads