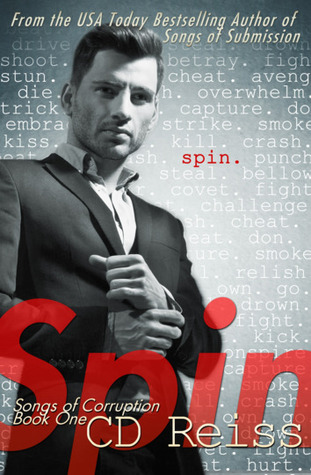 Spin by C.D. Reiss
My rating: 3 of 5 stars
Book Description:
***You do NOT need to read Songs of Submission to read Spin***

Mafia capo, Antonio Spinelli blew through my orderly life like a cyclone.

Gorgeous and passionate, with a breathtaking brutality, he put me under his spell the moment he touched me, drawing me into his underworld of risk, violence and betrayal.

And I found, just as this sophisticated savage didn't trust me, I didn't trust myself. Something happened to me. Some alchemy from the heat between us.

I discovered I was a savage, too.
Ok. So...that happened. I love mafia romance but unfortunately none of them live up to Nero. He is my ultimate Mafia romance book boyfriend.
My book bff was raving about this telling me how great it was and how much I'd love it and that Antonio reminded her of Nero. Well, with those glowing comments, I couldn't help but read it next.
Unfortunately, while the book was good, it didn't even come close to Nero for me.
I've only read one other book by CD Reiss (ShutterGirl) and that one was more successful for me. This one...I liked Theresa but at the same time I had issues with her. It was almost like she had a split personality. She started off one way and then switched once she hooked up with Antonio. I did say to Nikki later that maybe the personality change was due to the fact that this was the real her and she was only able to express who she really was once she met Antonio but even as I said it, I wasn't sure it was the truth.
And speaking of Antonio...I never felt like I got to know him. The book was entirely from Theresa's POV so you only saw Antonio through her. I got that Antonio and Theresa had great physical chemistry but to be perfectly honest, I never quite believed that there were genuine feelings between them. On Theresa's part, she was still hung up on her ex for at least 1/2 of the book. Antonio...well, he was so closed off and refused to answer any questions or talk about himself that there wasn't much to love in what we knew.
I think the biggest downfall (for me) with this book was the lack of dual POV. Maybe if I'd had Antonio's POV I would have gotten to know him, understood his views and feelings and felt more of a connection between the characters. But none of that was there.
Consequently, I'm not really excited to read books 2 & 3. Maybe some day...but no time soon.
View all my reviews