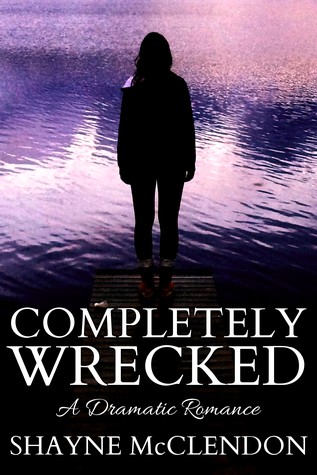 Completely Wrecked by Shayne McClendon
My rating: 5 of 5 stars
Book Description:
The sun is brightest after the fiercest storm.
Elizabeth Clayton has been in love with Dylan Lange since they were in elementary school. Uncomfortable in her own skin and in possession of a kind and gentle heart, she never expects him to see her in a romantic light.
When she stumbles upon him, battered and unconscious, it starts a chain reaction that will span more than a decade of interactions between them filled with pain, devotion, love, and loss.
Take a journey with Lizzy and Dylan that will make you laugh, make you ugly cry, and (hopefully) encourage you to take a look around and appreciate the love and positivity in your own life.
The first survival romance novel by Always the Good Girl, Shayne McClendon.
Trigger warning - two of the characters in this novel survive extreme abuse. Their ordeal is not depicted in graphic detail nor is it considered a positive aspect of the story. However, it is crucial to the plot.
I met the most awesome author at Indies in Indy book signing. I'd never heard of her before and didn't know of her books but I stopped by her table and got talking to her and I walked away needing to check out her books. She was so personable and friendly.
I decided to give this book a shot, worried that I'd hate it and then how could I show my face at any future signings that this author would be at!?
So I went into it, and give a shot…I never expected it to grip me and not let me go. I read this in one sitting. I couldn't put it down long enough to do anything else (thank god it was my day off!)
I wouldn't classify this book as your typical romance. Yes, it's the story about how Elizabeth and Dylan get together but it's also so much more than that. It was everything I didn't know I needed in a book. It was full of emotion and love and it was just amazing. But it was also filled with sadness and heartbreak and you know the author is talented when they can bring out both the good and the bad and move you to tears.
Dylan's story was heart breaking. He'd endured so much and it was only later in the story that you found out the extent of everything he'd been through.
Elizabeth had also been through a lot. But it didn't change her. No matter how badly people had treated her, she stayed the same loving, helpful, hopeful person that loved to help others. My heart also broke for her on more than one occasion.
Honestly, I'd recommend this book to anyone looking for a great read. Just know that you'll need some tissues to get you through a part or two, but you know what….it's totally worth it.