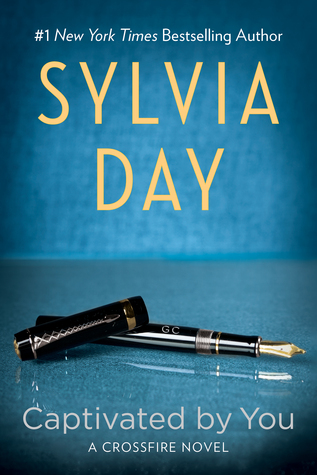 Captivated by You by Sylvia Day
My Rating: 5 of 5 stars
Book Description:
Gideon calls me his angel, but he's the miracle in my life. My gorgeous, wounded warrior, so determined to slay my demons while refusing to face his own.
The vows we'd exchanged should have bound us tighter than blood and flesh. Instead they opened old wounds, exposed pain and insecurities, and lured bitter enemies out of the shadows. I felt him slipping from my grasp, my greatest fears becoming my reality, my love tested in ways I wasn't sure I was strong enough to bear.
At the brightest time in our lives, the darkness of his past encroached and threatened everything we'd worked so hard for. We faced a terrible choice: the familiar safety of the lives we'd had before each other or the fight for a future that suddenly seemed an impossible and hopeless dream...
This book...
...It was pure perfection- Not that I'm surprised. This is without a doubt, a favorite series of mine and Captivated By You did
not
disappoint. I love this series... I love
Gideon
these characters... Hell, I just love fucking everything when it comes to the Crossfire series.
First and foremost, I need to go ahead and shout out a little heads up before starting my review: This book can't be read as a stand-alone. ...And if you haven't read the rest of the books in this series yet, what the hell are you waiting for? With that being said, I'm not giving away any spoilers for this particular installment in my review, but if you've yet to read the rest of the series than prepare for minor spoilers in regards to the previous books. You've been warned.
With that being said, Sylvia Day literally blew me away with this book. I've always loved and appreciated the intensity of Gideon and Eva's love for one another, and this installment really showed us the depth of feeling and emotion these two feel for each other. As I've said in my reviews for the previous books, I've yet to come across two characters whose love for one another is more strong or solid. They love and worship one another more than anything or anyone else in this world and it's that particular love that has given them the strength and courage to work through and face their fears head on, which only helps them to try and build a healthier and stronger relationship and future.
What made this story that much more special, was the added bonus of hearing Gideon's point of view.
Be still my heart.
Gideon is without a doubt, one of my favorite heroes ever. He's successful, dominating, powerful and extremely vulnerable as well; Something that was made even more clear through his point of view. We were able to see how deeply scarred he really is by his past, but also how desperately in love he was with Eva. Trying to build a healthy relationship has never been easy for these two, but their unwavering love for one another helps them to overcome any obstacle thrown their way. One thing has always remained though: Their love for one another continues to stay strong, despite the mistakes that are made. Everything that's happened throughout this series has only served to strengthen the story and all of the characters involved. We see first-hand that absolutely no one is perfect, but every flaw only makes everyone feel that much more
real.
"I told you I was going to fuck this up. I'll fuck up again. I don't know what the hell I'm doing, but God… I love you. I love you so fucking much. I can't do this without you. I can't live without you."
Over-all, I have to say that Sylvia Day continues to stay true to all of her characters and never once created drama just for the sake of drama. Gideon and Eva have come a long way to get to where they are now in their relationship, and it's been a breath of fresh air to have the opportunity to be with them along every step of their journey without things ever feeling rushed. Prepare to face more of Eva and Gideon's intense journey of love in this installment. I absolutely can't wait to see what's in store next for these two... I can just only hope that we don't have to wait another year to find out.