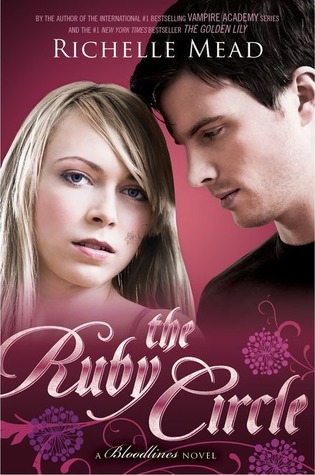 The Ruby Circle by Richelle Mead
My rating: 5 of 5 stars
Book Description:
The epic conclusion to Richelle Mead's New York Times bestselling Bloodlines series is finally here...
Sydney Sage is an Alchemist, one of a group of humans who dabble in magic and serve to bridge the worlds of humans and vampires. They protect vampire secrets—and human lives.
After their secret romance is exposed, Sydney and Adrian find themselves facing the wrath of both the Alchemists and the Moroi in this electrifying conclusion to Richelle Mead's New York Times bestselling Bloodlines series. When the life of someone they both love is put on the line, Sydney risks everything to hunt down a deadly former nemesis. Meanwhile, Adrian becomes enmeshed in a puzzle that could hold the key to a shocking secret about spirit magic, a secret that could shake the entire Moroi world.
Wow. I can't believe it's over. It seems like I've waited forever for this book. I'm both sad and relieved that it's done.
After the previous book, I worried that this book would be boring since it wasn't my favorite and there were parts I didn't care for. But The Ruby Circle brought everything full circle. I'd almost forgotten about the reason Sydney was sent out to Palm Springs with Adrian and Jill in the beginning of the series. Most of the books focused on Sydney's fight with the Alchemists and finding her own life & path that I'd forgotten the underlying story of protecting Jill and the throne for Lissa. Granted the threat that surrounded Jill in this book didn't actually have anything to do with Lissa and the throne, but it still came back around to her, protecting her and finding her.
I made the mistake of starting this book before bed so I stayed up way to late reading, but I couldn't put it down. I really do love Adrian and Sydney's relationship. They just work well together, they complement each other very well. That's what makes this book really sad. I wasn't ready to say goodbye to them. When The Vampire Academy ended, I was ready. But I'm not ready to let go of Sydney and Adrian yet.
I wasn't pleased with Nina still being around. But I'll admit that I loved the conclusion to that part of the story mainly because of the addition of Declan. I loved the little twist with him and would love to see a spin off series surrounding him as a teenager/adult.
I was glad to see some resolution come to the Alchemists chasing after Sydney and Adrian. This book was pretty much perfect except for the fact that it was the end and I'm not ready to let go. But on the other hand, I'm glad that the author didn't stretch it out any more.
I shall miss Adrian and Sydney and will definitely revisit this series in the future. I also hope that the author will continue the world and we'll see them again.
And for the final time in this series, here is my Adrian:
View all my reviews