One of my favorite types of romances to read revolves around the
Friends-to-Lovers
theme.
Part of the reason I love the Friends-to-Lovers theme is because of the history between the characters. There's always a great connection that they have in their existing relationship that just builds as they fall for each other, or realize that they have deeper feelings.
One of my all time favorite books is a
Friends-to-Lovers book...Bringing Home The Bad Boy by Jessica Lemmon. Evan and Charlie have known each other since they were kids and have been friends through a lot of good times and bad. After Evan moves home, he and Charlie start dating and the book is pure awesomesauce.
Bringing Home the Bad Boy just came out on January 27th, so don't delay and pick up a copy today!
Lindsay, really? You're going all infomercial on our readers!?
Hey! I can't help it, the book was awesome! People need to know that! Btw, it's my Sunday for posting, what are you doing here?
Be that as it may, it sounds cheesy!
Well, how would you say it?
Uh...I don't know...so, proceed. :D
Btw, it's my Sunday for posting, what are you doing here?
Oh, I heard you were recommending books and I wanted to see what books you haven't told me about :P
Anyway, as I was saying, You should really check out Bringing Home the Bad Boy.
Another author that does Friends-to-Lovers really well is Caylie Marcoe. I've read two of her books now and both were awesome. I do have a favorite but that's just because one made me cry and one didn't. Since I don't typically re-read books that make me cry, my favorite book by Caylie is Choose Us. Riley and Travis have been friends since childhood. After high school, Riley goes to work for Travis and they end up on a reality dating show for Travis to pick the girl of his dreams.
I was skeptical of the reality show aspect but I ended up loving this book! Travis and Riley had a great friendship with an amazing connection.
Choose Us was Caylie Marcoe's debut novel and it was a great first novel! You can't go wrong with her books.
That's very true, but I'm still holding a grudge!
Lol, why? You enjoyed it!
I know I did! But you led me to believe there was hot sex in this!
I never said there was hot sex! I just didn't tell you there there wasn't any hot sex.
Same difference! :P
Maybe Someday by Colleen Hoover is another great Friends-to-Lovers read. This one is one of the more unique books of this theme because a) it has a soundtrack and b) because the hero Ridge is deaf. I've read books where characters are blind or mute, but this was a first for a deaf character. I was unsure how the communication would work, but the author did such an amazing job.
In this case, Ridge and Sydney were pretty new friends. There was no shared history or childhood for them. But Colleen Hoover spent time developing their friendship before the couple jump into the romantic side of things.
I'm not typically a fan of love triangles and cheating but for some odd reason, I had no problems with those two things in this book.
*crickets*
Lol, really? You have nothing to say about this one?
Uh...nope. *blushing* I haven't it read it yet.
Well, you've read this next one...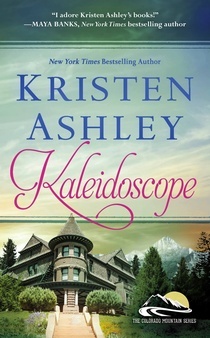 Kaleidoscope by Kristen Ashley!
Woooo! You're right, I have read that one! Can I do this one!?
Go for it.
So, Kaleidoscope is a friends to lovers story from the ultimate alpha goddess Kristen Ashley!
Just to make a point...the reason this one is on the list is because I love the friendship between Deck & Emme. You actually watch as their friendship turns into something more. It's not a case of exes getting back together or people that have no history....the history between Deck and Emme makes for such a deeper story. And don't get me started on the actual significance of the Kaleidoscope.
Hey! I thought I was going to get to talk.
You are! I just had to put my two cents in!
I loved that Deck's love interest was someone he knew from his past and when he realized that Emme was
the one
... swoon!
There's just one more we want to hit on before we wrap up for the day...Sudden Response by R.L. Mathewson. This one is another case of a long time friendship turning into something more. In this one, Joe and Eric aren't only friends, they also work together. They had such a great connection that they were basically a couple without sex...until that happened. It all felt natural, never forced.
So, there you have it. Those are some of our favorite Friends-to-Lovers books and why we love them!
What are your favorite Friends-to-Lovers books?