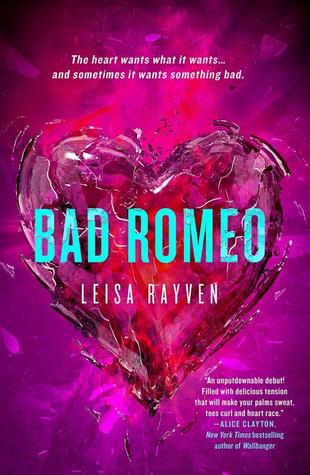 Bad Romeo by Leisa Rayven
My rating: 4 of 5 stars
To sum it up: When Cassie Taylor met Ethan Holt at acting school, sparks flew. She was the good girl actress. He was the bad boy about campus. But one fated casting choice for Romeo and Juliet changed it all. Like the characters they were playing, Cassie and Ethan's romance seemed destined. Until he broke her heart and betrayed her trust. Now the A-list heartthrob is back in her life and turning her world around. One touch at a time.
Cast as romantic leads once again, they're forced to confront raw memories of the heartbreaking lows and pulse-pounding highs of their secret college affair. But they'll also discover that people who rub each other the wrong way often make the best sparks...
Damn. Talk about some sexual tension...
I was a little skeptical to go into this story, only because I've never been a huge fan of heroes/heroines that are actors. Don't ask me why... It's just never been my cup of tea. But after hearing that the hero is a complete asshole and the main characters tend to have a love/hate relationship, I was officially sold. Needless to say, this book really worked for me. For starters, the writing was awesome- Aside from one scene in the story that I found to be a bit cheesy, I have absolutely no complaints when it comes to the way the story was written. It was told completely from the heroine's POV which I absolutely love and her inner monologue had me cracking up laughing throughout each turn of the page.
So this story begins when our heroine Cassie is cast as the romantic lead in a Broadway play, opposite the only man she's ever loved- Enter, Ethan Holt. (Be still my heart.) Unfortunatelty for her though, he's also the same man who ripped her heart in two and left her alone to pick up the pieces. They've spent six painful years apart, and despite how much she desperately wanted to hate him, her love for him never wavered. Unbeknownst to her however, Ethan found that this was his one and only chance to try to win back the only woman he's ever truly loved, and he was willing to do absolutely anything to prove himself to her and win back her heart for good.
"Don't even try to tell me you'll ever love someone as much as you love me, because as arrogant as it is to say, that's bullshit. And I feel the same way about you. Everyone else is just going to be second best for us. Don't you get that?" -Ethan
Now normally, I'd be running for the hills at the thought of reading an entire book where the hero is consistenly chasing after the heroine and trying to right all of the wrongs he had done. However, the way this book alternated between past and present worked in the sense that you never felt like that's what was happening. Sure, we're able to see Ethan trying his best to win Cassie over for good when reading during present times, but the author consistently jumped back to the past which I appreciated tremendously. We were able to see how both of them met and first began their relationship before it all went down-hill... And fortunately for us, we were therefore spared from reading a novel based entirely around a giant sap of a hero begging for forgiveness throughout each turn of the page. Yeah, no thanks.
Our heroine Cassie was the virginal good girl, and I absolutely adored her to pieces. She had her own personal issues with feeling the need to try to fit in, even if it went against her own feelings. While in drama school, she meets the ultimate bad ass who didn't seem to give a shit about anyone or anything aside from acting. Despite his constant "fuck-off" demeanor he always tended to give off to those around him, Cassie found her way into his closed off heart. Ethan consistantly warned her to stay away from him, for fear that he would only ruin her... A chance that he damn sure wasn't willing to take. Yet, when they were cast as Romeo and Juliet together in their prestigious play, they were both forced to break down the walls that were between them and give in to their true feelings that they so desperately always tried to hide from one another...
I refuse to give anything else away when it comes to this story- I went in blind, and I think it's only fair that you do the same without any added spoilers. I will say that the chemistry that these two had was EXTREMELY intense and featured some of the best sexual tension I've ever read in any romance novel that I've come across over the years. Despite the years of separation that these two went through, it was so obvious that their feelings for one another never wavered but only intensified. The writing was absolutely captivating and had just the right amount of balance between emotional intensity and some pretty damn funny scenes. The fact that the author took us back and forth between the present day reunion and the tragic start of Ethan and Cassie's relationship blended so perfectly and really helped to add more and more layers to the story that constantly made you want more.
The hero Ethan was the complete opposite from your typical romantic. He didn't do love and was extremely antagonistic towards everyone, especially Cassie. Yet, the more you read and learned about his past the more you were able to see his reasoning behind his actions. My heart broke for him and we were really able to see and make sense of why he was the way he was. The heroine Cassie on the other hand, was truly an awesome heroine. Sure, she may have been the innocent virgin who tended to be a bit meek and shy around other people, but when it came to Ethan she was anything but... Not in an annoying way though, thank God. I appreciated the fact that when it came to Ethan she never gave up and wasn't afraid to follow her heart. She went after what she wanted without coming across as overly independent and obnoxious the way so many other heroine's these days tend to be.
The only reason I didn't give this book five stars, was because I wished there had been a little more drama involved. Sure, there was plenty of it... But had there been a little more added jealousy in the mix or something more along those lines, then I probably would have given this book a perfect rating. It was just missing something that I couldn't quite put my finger on- With that being said though, there was still plenty of action that went on that helped make up for what I felt needed to be there. Over-all, this was a second chance romance that was done so differently than most novels that revolve around this theme. It didn't waste time spent on the characters trying to fix their broken relationship, but instead focused on a love that never let go despite all the anger, hurt and separation that surrounded it... It helped to show that despite any and all damage that's done in the past, it's still so very possible to build something new and start again.
★ FYI: For those of you wondering if this story ends on a cliffhanger, it doesn't. It leaves off in a good place, but I'll also be honest and tell you that you'll definitely be desperate for more. Cassie and Ethan's story is actually told over two books, so if you're wanting the full story from start to finish than you're going to have to read the second book, Broken Juliet as well.