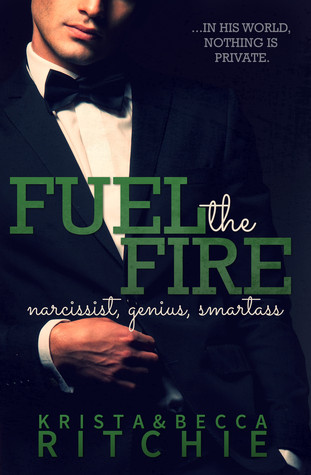 Fuel the Fire by Krista & Becca Ritchie
My rating: 4 of 5 stars
To sum it up:
Protect your family. At all costs.
It'd take the impossible to hurt Connor Cobalt, even for a moment.
Protect your family. At all costs.
At twenty-six, his narcissistic tendencies have made room for the people he loves.
Protect your family. At all costs.
And he loves Rose. But when his love is threatened, when his greatest dreams with her are compromised — what is the cost then?
Protect your family. At all costs.
Love will guide his choices.
For the first time in his life.
★ FYI: If you didn't read this warning from the authors in the synopsis of the book, please read now before going further into my review:
**AUTHORS' NOTE**
It's possible to only read the Calloway Sisters spin-off series without reading the Addicted series, but you MUST read Hothouse Flower (Calloway Sisters #2) before reading Fuel the Fire (Calloway Sisters #3).
It's highly recommended to read the books in the recommended reading order, which is in tangent with the Addicted series. If you choose not to read Addicted After All before Fuel the Fire, there will be a time jump.
Fuel the Fire picks up in the Addicted Timeline where Addicted After All ended. FTF will not retell past events from Addicted After All in Rose & Connor's POV. All new material.
I have to say that I really enjoyed this book and it was such an awesome installment to the series. Rose and Connor have been my favorite couple throughout each and every book, so it was definitely exciting to get more insight into what was going on in their world. This story focused on everything that threatened Connor and his family; Threats that he definitely didn't take lightly.
Throughout all of the books in the series, we've been able to witness how much growth his character has shown, and it only intensifies when watching him protect the ones he cares for most. Watching his protective instincts kick in was seriously the most fascinating aspect of this book- From a man who used to think he was completely incapable of loving anyone but himself, seeing him interact with the gang and especially his daughter only made me fall in love with him even more. He's completely unapologetic about who he is and that's one thing that's never wavered, and is a trait that I truly appreciate.
I don't want to give anything away when it comes to this book- As I have with every book in this series, I just dive right in with high expectations and am happy to say that I'm never disappointed. These cast of characters have become so much more than just mere characters in a book- They have such a way of gripping your heart so that you become a true fan of the Lilo, Raisy and especially the Coballoway team. Krista and Becca Ritchie continue to amaze me with their ability to keep the series flowing so perfectly, and this installment was no exception. I didn't think I could fall more in love with Rose and Connor after reading Kiss the Sky, but after finishing Fuel the Fire I was once again proven wrong. This story was so much more intense, and I found myself either laughing out loud or crying throughout the pages... And you know it's a damn good novel when an author is able to really bring that kind of emotion out of you, that's for sure.
The stakes are higher for Connor and Rose in this story now that their loved ones are on the line- Buried pasts will resurface and enemies are lurking in every corner waiting for the opportunity to tear everyone apart. But being the mature and responsible couple that they've always been, I never doubted that they'd be able to handle anything that comes their way. Their fierce loyalty is such a thing to admire and it's so obvious that they're perfect for one another. This story just also proves that they'd go through hell and back in order to protect the ones they care about most.
Rose and Connor's love is extremely unique and unlike any I've come across. It can be felt throughout each turn of the page and that's something that's an impressive thing to come across in romance novels these days. Over-all, I can honestly say that Krista and Becca Ritchie are a force to be reckoned with- Their writing is absolute perfection and this installment is without a doubt a perfect example of that.