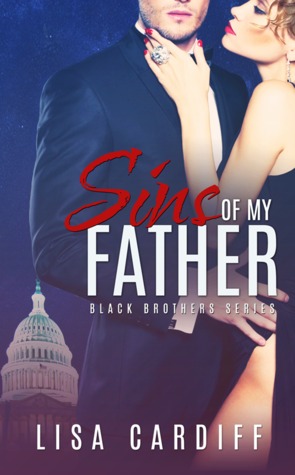 Sins of my Father by Lisa Cardiff
My rating: 5 of 5 stars
Book Description:
An eye for an eye…
My name is Archer Black, and I have a confession.
For as long as I can remember, my life has revolved around getting revenge against Senator Thomas Wharton.
It was supposed to be easy. Uncover his secrets. End his political career. Ruin his Presidential campaign. Use his stepdaughter, Langley Mayer, to do it. She's also my stepsister, but she doesn't know that. Nobody does.
But nothing is as easy as it seems. When my high-stakes plan for revenge takes a deadly turn, I'm the only person standing between Langley and the people who want her dead. Time is running out, and I need to decide what I need more: love or revenge.
So...wow. This definitely isn't your standard stepbrother romance!
I'm definitely addicted to stepbrother romance, so that's initially what drew me in. But I was also intrigued by the premise that the heroine knew nothing about Archer and that he was going to use her to get revenge on his dad. Add in the fact that his dad is a prominent senator and planning to run for president and you have the makings for LOTS of drama!
The author pulled me right in from page one. I couldn't wait to see what would happen next.
Archer was a man with a plan, and he didn't care what he had to do to achieve his goals. Langley was just a tool to bring down his father. He didn't count on falling for her. I loved watching him fall. Langley confused him. Yes, he did his research and knew "everything" about her but he didn't know her or what her family was really like. So he was surprised to find that she wasn't the "loving daughter" that Senator Thomas Wharton spoke about in interviews. Senator Wharton wasn't her father, or even a father figure. He was simply a guy that married her mother. There was no happy family, not like Archer had been expecting.
Langley was very down to earth, I really liked her. She didn't enjoy the dog and pony show that went with her stepfather's career. She did her duty and played the loving daughter as needed just because she couldn't say no. At 25, she was struggling to build her own life, separate from that of her family. She didn't expect Archer...this rich, good looking guy who just showed up on day, showed interest and seemingly fell for her. I thought they had great chemistry and loved every moment of their relationship.
Along with Archer's plot for revenge, there's also a suspense plot to the book. I thought the author did a good job with this. It was woven into the revenge plot and both served as a device to push Archer and Langley together as well as something that initially they had to overcome. Plus, the intrigue going on gave Archer the smoking gun for his revenge to come to fruition.
Going back to the stepbrother thing for a moment, this book isn't all about "we're related by marriage! We shouldn't be together!"...If you didn't know about that connection from the blurb, you wouldn't really know that there was that marriage connection between Langley and Archer. It takes a while for the reader to find out that Archer is the son of Senator Wharton. So if that's holding you back from reading it, no worries. It's not a huge plot device. It does serve as a big reveal for Langley when she finds out the about Archer's plan but overall for the book, it wasn't a standard stepbrother romance.
Overall, this was an extremely enjoyable story. I was also intrigued by Archer's brother Knox and can't wait to read about him (yes, I'm assuming there will be a book since the series is titled "Black Brothers Series"). This was my first book by the author, but it definitely won't be my last!
View all my reviews