IT'S PIFY TIME!!!!!!
Ok, so we totally flaked on March. We got together (electronically) and we picked books and talked about it but we forgot to do a post. So, for a recap...this is what happened:
Lindsay picked:
First Comes Love
by
Emily Goodwin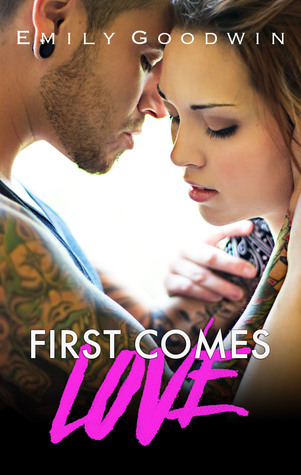 First comes love.
Then comes marriage.
Then comes a—
Hold up. You're joking right? As if life works off a neat little list like that, moving down, checking things off before jumping to the next task. We're not married. We're not lovers. Hell, we're hardly even friends. Noah Wilson isn't exactly "life partner" material, and he sure as hell isn't "father material". He's my older brother's best friend, and has been off limits, sworn off, locked in the highest tower and out of reach since we met over ten years ago. With his devilish good looks, tattoos, motorcycle, and trail of broken hearts and tears, I've had good reason to stay away from the bad boy my mother warned me about.
Until one night. One stupid, regrettable night that changed both of our lives forever. And now I only have nine months to decide our fate, to see if Noah's rebel heart is capable of anything more than a one night stand.
This isn't a love story. This is a life story. And life doesn't go according to plan.
Lindsay's Rating:
★
★
★
★☆ (You can find Lindsay's review here)
Nikki's Rating:
★
★
★
★
☆
(you can find Nikki's review
here
)
Lindsay's reason for picking it:
Ok, so my reason for picking this book was a) because tattoos were our theme and Noah definitely had tattoos...but also because I know that when picking books for Nikki, there HAS to be steam in it for her to even entertain reading it. This fit the bill on both counts and I really did enjoy it.
The Result:
So, in terms of ratings, I think this book was more of a success than January's pick from me.
I'd have to say I agree. For both of us!
So, I did good? I know it wasn't a home run since we both gave it only 4 stars, but...you liked it?
Yes! I liked it a lot! And the only reason I knocked a star off was because her family sucked! It was irritating. But other than that, it was a great read! I really LOVED Noah! He was the best!
I've added him to my collection of Book Boyfriends ;)
LOL. I'm totally with you there! He was awesome, definitely book boyfriend worthy! And I'm totally with you on her family! They accepted him as their son's friend, but as soon as she got pregnant, they were all "he's a bad boy! He won't change! He's not responsible!" And that just pissed me off. PEOPLE CHANGE AND GROW UP!
I concur! People do change. I just liked that she stood her ground and stood up for him. He did make a few mistakes, but they all do. I liked that he cared so much for her and he showed his vulnerable side by not feeling like he was good enough. Then I liked when he got over that crap and they made up.
Totally agree with you. Let's move on with the next book!
Nikki picked

: Friend-Zoned (Friend-Zoned #1)

by

Belle Aurora
Nikolai Leokov never thought he'd fall in love with the only girl he's ever befriended.
Valentina Tomic has issues with commitment after the ultimate betrayal.
When Tina decides to make broody Nik's day better, she never thought she would end up friends with the hard man.
Nik has never had a woman be so affectionate to him without expecting something in return.
Nik and Tina cordially invite you to read Friend-zoned.
A story of friendship, humour and love.
Nikki's reason for picking it:
Well, to be honest, I was going through my books looking for a tattooed hottie (there are so many ) and when I came across Friend Zoned I remembered that I liked it a whole lot and we were supposed to buddy read it forever ago. *hiding face in shame* But I kinda read it without you. So, I figured this would be a great time for you to finally be able to read it!
Lindsay's Rating:
★
★
★
☆
☆ (You can find Lindsay's review here)
Nikki's Rating:
★
★
★
★
☆
(you can find Nikki's review
here
)
Ok lol. I have to be honest and say I don't really remember a lot of the details. I read it a few years ago. I do remember that I loved their first meeting and that it was a great book
LOL. I agree about their first meeting, that was hilarious! But as I was reading, I had a few issues with the tone of the book, the way it was written. I was worried for a while that I really wasn't going to enjoy it.
*covering eyes* Dare I ask... What were they?
Well, it was just the tone...I can't explain it. Maybe the way they both denied that they were into each other and thinking the other person was interested then deciding that wasn't possible because they were JUST FRIENDS.
I can understand that. I know there has to be some tension in books in order for there to be a story, but sometimes it can be dragged out a little too much and that can get bothersome
Exactly. And as much as I did enjoy their friendship, I also couldn't help but feel like they didn't spend enough time together, just the two of them. I mean, they did get to know each other on the "group dates" (for lack of a better word), but they acted like a couple with the way the claimed each other and claimed sitting next to each other, yet denied any feelings.
LOL.
I can see how that'd be irritating to a degree. But aside from that, how did you like it overall?
I did. I ended up really enjoying it....except for one thing. The thing that made me cry...TWICE.
I am SO sorry! I totally forgot that part! *covering eyes*
Lol. I know. I don't blame you. But I just couldn't get past that to give it a higher rating. However, I did enjoy it and want to read about the other characters!
Yay! So it looks like this month was a success!
It definitely was!
At least it was compared to last month...
We're not speaking of that.....
Lmao ok
The theme for April's PIFY is: One of Lindsay/Nikki's Favorite books!
So you KNOW that they'll have a billion options and have a hard time picking!!!
Nikki's Pick for April:
Vengeance
by
Shara Azod
Her scars ran so deep, her soul had been severed in two. Michelene had killed and run—but not far enough, or fast enough.
They'd found her.
Azriel had but one rule. No attachments. This rule had kept him alive. He'd lived by it—until her.
She'd found her savior in a man whose past was even darker than her own and whose soul held shadows of that dark. He made her body explode in ways she'd never imagined possible and gave her heart something she'd long given up... hope.
Michelene was his saving grace. The only thing which kept the darkness from consuming him. She was his to protect and cherish.
God help anyone who challenged that--because Vengeance would be his.
Nikki's reason:
I'm choosing this book because A) it is super freaking sexy. B)it has a psycho possessive (in the best ways) hero who is all about vengeance and doesn't mind a little murder to make sure his lady love is safe, and I know how that can be right up your alley ;) Plus I really loved it!
Lindsay's Pick:
A Humble Heart
(Hollywood Hearts #1)
by
R.L. Mathewson
After wasting too many years on the wrong guy, Dana frees herself and her two children to live her dream.When she's forced to deal with paparazzi, offers from porn companies, magazines, Hollywood and crazed fans Dana does everything she can to keep it together for her kids. She never dreamed she'd catch the eye of the most sought after bachelor in the world. Things like that just didn't happen to women like her, or did they?
Having a life? What the hell was that? Edward couldn't remember what it felt like to live his own life without someone watching his every move. Thanks to the paparazzi and the internet nothing in his life was sacred. Out of desperation to keep some semblance of a life he stops living his own. His family and work are all he has left until he's made an offer he simply can't resist. Working with the famous author forces him to open his heart and take a chance. Winning the heart of the woman he loves while the world watches is anything but easy, but he never thought it would be dangerous. His only hope is that they get through it together.....and alive.
Lindsay's reason: Ok, I read this forever ago and I absolutely loved it! I know Nikki loves R.L. Mathewson's books, but she keeps ignoring me when I say this book is BEYOND AWESOME!!! So when I had the chance to pick it for a PIFY, I went for it!
We'll keep you updated on how the books for April go!