Yes, you read that correctly but before you jump to conclusions, let me explain...

We're doing something different this week. Traditionally, in our short duration of Sunday Spotlight, we've taken turns talking about various topics with some guest appearances by some lovely authors that have been willing to grace us with their presence.

But today we're stepping outside of the box a little and here's why:

Recently I've been on a kick of Stepbrother books. I've read a few in the past (very few) and they were good....also few and far between because it wasn't a popular topic. But the topic is becoming more popular so there are more books out (much to my delight). However, most of the books are...well...(much to my dismay) bad.

I've been craving a REALLY good stepbrother book. I've come close. There are a few I've read recently that were decent to really good. One was Monster Stepbrother (review can be found here) and the other was Stepbrother, Mine (review can be found here). Monster Stepbrother is darker, more angst with an asshole hero. It's a difficult book, and one that not everyone is going to like because of the subject matter. I don't mean the stepbrother part, I mean the way the heroine is treated, what she does and how the hero acts. I know a couple people that didn't like it...it worked (for the most part) for me. As for Stepbrother, Mine...well...it was near perfect. But I had some issues in part three that I thought were going to tank the book for sure. It redeemed itself and because a really good read, I definitely recommend it.

I've also encountered many, many (MANY!) bad stepbrother books. Books that were little more than short stories/serial porn stories. I'm not saying they don't have their place and that they were horrible (although there were a few), but what I really wanted was a Stepbrother themed story that had a story. One that had a relationship that was developed over the course of the book and that drew me in, and kept me captivated until the end. One that grabbed me and didn't let go and that I was sad to see end. I came close with Stepbrother, Mine. But I found perfection in Prick by Sabrina Paige. THAT is the reason for today's post and the out of the box post.

I'm incorporating our standard Sunday Spotlight with a topic (ie Stepbrother romance novels) with a review of this amazingly awesomesauce book AND a giveaway!!!!! Yes, you read that correctly!

So, here's a little info about this book:
I can't stop thinking about that prick.
Caulter Sterling is a prick.
A filthy-mouthed, womanizing, crude, spoiled, arrogant prick.
The tattooed, pierced, panty-melting-hot son of a celebrity.
He's slept his way through practically every girl at Brighton Academy.
I'm the good girl. The responsible girl. The 4.0, class president, studied-so-much-she-never-lost-the-big-V girl.
And in celebration of graduation and adulthood, I just made the worst decision in the history of ever.
I lost my V-card to the devil himself.
It was just one night. So what if it was mind-blowing? Hit it and quit it.
Except I just found out that my father - the Senator, the Presidential hopeful - is marrying Caulter's mother. Oh, and this summer? We're hitting the campaign trail.
One big happy family.

I'm totally f**ked.
YES! FINALLY!! THIS IS WHAT I'VE BEEN LOOKING FOR!!!!
So, in case you couldn't tell, I'm excited. I FINALLY found a great Stepbrother book!!!!
This book was everything I've been looking for in this suddenly popular theme. They always sound good but they're typically disappointing. But this book had everything I was looking for!
There was an actual story. There was a relationship between the characters. Feelings were developed. Lol, basically, it was a book with a story in it as opposed to some of the other "jump right into sex, all sex and nothing but the sex" stepbrother books. Those are fine on occasion as quick reads but…I want some meat and potatoes to go alone with the hot stuff. This book seriously had it all! Actually, it reminded me of a New Adult Romance (which it technically was) where the characters just so happened to be stepsiblings.
The book wasn't just gratuitous sex. Yes, it was very pleasantly steamy ;) but there was a storyline to go with it. But speaking of those sex scenes, they were beyond hot and the characters had amazing chemistry!
And don't even get me started on the alphaness that was Caulter. I'm definitely claiming him as a book boyfriend!
I loved that things started between Kate and Caulter before their parents got married; before they knew they were going to be stepsiblings. It just made it all the more fun because they already had a past and an attraction. Kate was little miss perfect in high school, the daughter of a senator. Guys were either afraid to ask her out of only interested in her to get close to her dad. So she decided she was going to cash in her V card and she picked the best guy in school to do it…the guy that had been flirting with her for years and who was the manwhore of Brighton Boarding School…Caulter Sterling. She was in it for one night of pleasure, never expecting to see him again after graduation. But that one night changes things for both of them. When she left, Caulter wasn't quite ready for the night to end and Kate didn't anticipate the sleeping giant she awoke by sleeping with Caulter.
As you can imagine, finding out that your one night stand who took your virginity is going to be your stepbrother…awk-ward.
So now we have this dance with double entendres. Caulter loves taunting Kate and seeing how far he can push her. And he had me snickering at quite a few of them.
I loved their name calling and bantering. The names weren't derogatory or nasty. Yeah, they could be mean spirited but Kate and Caulter didn't get along and they fought, that's what they did so I was fine with it.
Part of what made this relationship so taboo was the fact that Kate's dad was a senator that ran on a platform of family values. Lol, what bigger scandal could there be than his daughter sleeping with her stepbrother? So consequently, Kate and Caulter spent a lot of time sneaking around.
One of my favorite parts was when Caulter caught Kate in a dress, with nothing underneath it. He took advantage of the situation (with full consent and participation of Kate ;) ) and then decreed that she was only to wear dresses and skirts with no underwear in the future. Well, of course Kate said no. And to get his way, Caulter did the only thing he could…he burned all her jeans and underwear. This had me rolling with laughter, especially since he was roasting marshmallows over the fire.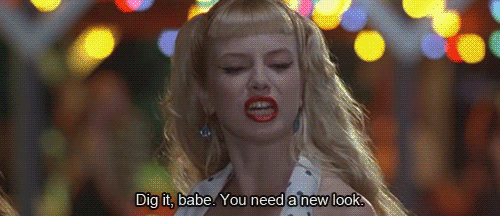 Caulter did replace her clothing…with more dresses and sexy underwear and used the excuse that her look needed updating with the stylist.
I don't have any complaints but I do have a wish…I wish I had gotten to see a little more of the fall out after Kate and
Caulter had their blow up at the reception.

Oh, the other thing I really wanted to know (even though I have my suspicions) how did the tabloids find out about them and the game and stuff!?
Overall, this book was freaking amazing. I'm so glad that I read it and discovered a love for this author. I can't wait to read more from her and, Ms. Paige, should you decide to write more stepbrother book, I for one would be very happy! ;)
Sabrina Paige writes about smart, sexy women and the hot alpha males who love them. Outlaw bikers, cowboys, and military men make her swoon. She has found her own happily ever after with her active duty military husband and adorable toddler.





Ok, I know what you really came here for...our GIVEAWAY!!!! Sabrina Paige has been extremely generous and offered us 2 copies of Prick to give away. And since we love sharing the love about our favorite books, we jumped on that (wish some fangirling that she should offer that to us!)...so, just scroll down and enter the rafflecopter. And leave a comment on this post.... Have you read any Sabrina Paige books? If so, which one is your favorite?

The giveaway will run through February 21st and a winner will be chosen on February 22nd. Here's the small print:

Winners will be contacted and have 48 hours to respond. If we get no response another name will be drawn

.